Agility Sneak Peek: Headless Page Management
We offer a built-in page management system within a Headless CMS and here is Why!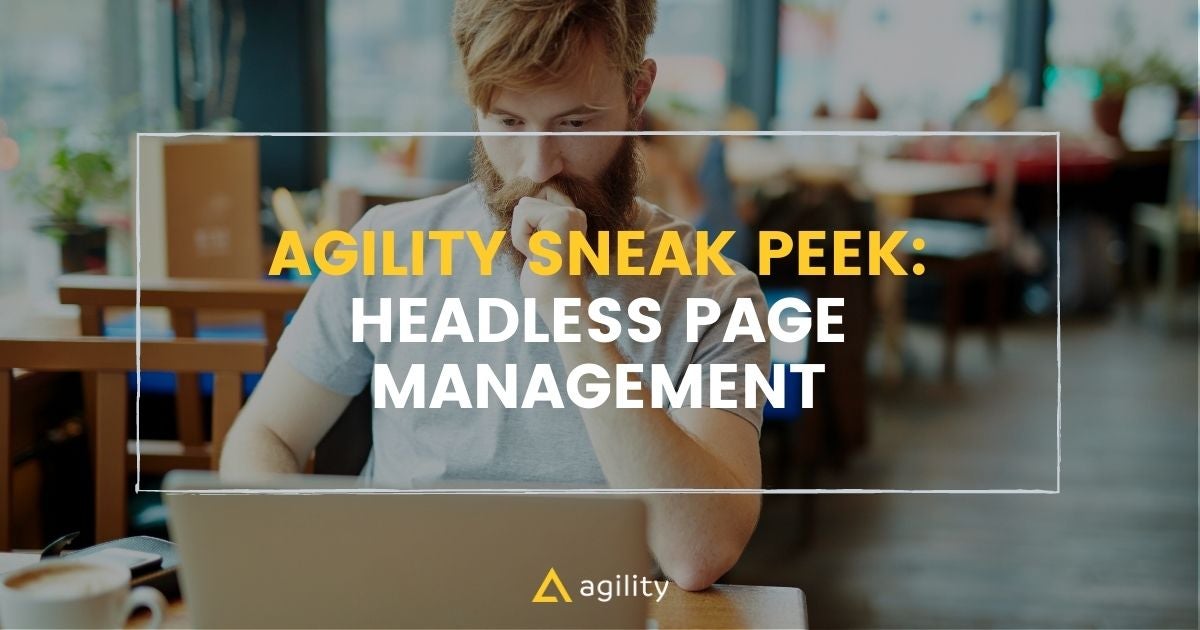 One of the things that makes Agility CMS different from other CMSs is that it is content first and offloads the task of page management to the content marketing team. With Agility, content teams are enabled to update pages and sitemaps without the help of the IT team.
Since part of our premise is to make things easier for everybody, we've added a robust page management system that's meant to simplify the lives of the content team, enabling them to create and manage actual pages on our sitemap.
In this Agility sneak peek, we'll take a look at page management and how Agility CMS helps content teams gain more independence over their operations.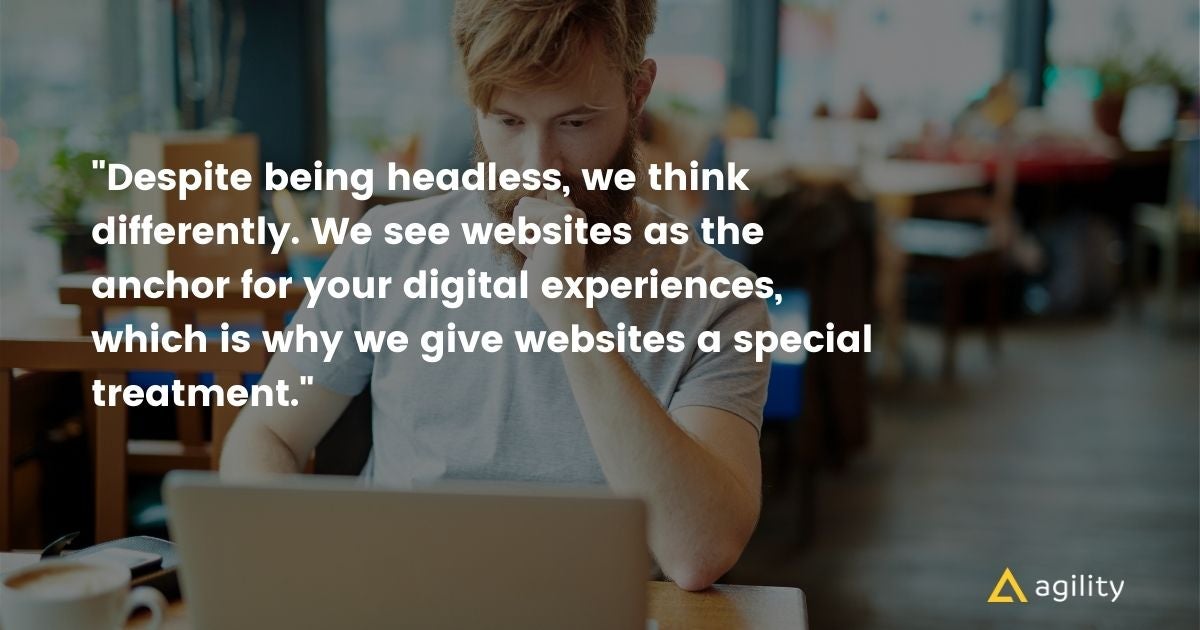 Why Page Management?
One of the main benefits of a headless CMS is that it enables companies to build a modern content architecture across different digital platforms and devices. Headless CMSs allow content teams to compose once and then publish everywhere, sending content to every platform and device customers are using.
However, while headless CMSs give you robust functionalities, some vendors claim that the separation of content and presentation that characterizes the headless architecture makes the concept of page management obsolete. In most headless CMSs you often get a blank site that you can configure the way you like. While that's a great approach, we also provide out-of-the-box, and even go a bit beyond that.
Despite being headless, we think differently. We see websites as the anchor for your digital experiences, which is why we give websites special treatment.
Here are some common scenarios where page management can save you a lot of time:
You need to create a new landing page specifically for the press. It will have the exact same content layout as the home page, but just different content.
In this scenario, without page management, you would need to go back into your code and add another static page in your website to handle the routing for your new landing page, then create a new item in the CMS to represent the content for that page.
You need to be able to set the SEO properties for each page, such as meta tags and meta descriptions.
Without page management you would need to add these additional fields to the landing page content model, go back in your code, read those properties, and add them to the appropriate place.
You and the rest of the stakeholders have different views on where to place a content module, and you might need to change it several times.
We've all been there. Make sure that if you're using the same content model and template and that the things you want to change are modules and not hard-coded sections of your website.
One of the main drawbacks of not having page management is that without it, your solution might not give editors enough flexibility, which means burdening your developers with requests that editors could handle. Page management empowers your content teams to make changes themselves and really own content.
Benefits of Page Management
With page management, you can empower editors to create and manage pages for your digital solutions using reusable building blocks.
Editors have the power to make their work easier by creating page templates that will be reused in other projects or within this project itself. Thanks to page management, editors are able to use a template as many times as they want without having to create each piece of content from scratch.
Less Time Spent On Content Updates
Page management helps save editors and developers' time because it simplifies content management and creation, empowering non-technical people to update website and app content on the fly.
Improved Page Templates and Modules
Page templates save time because instead of coding each page and route individually, the developer only has to code a few page templates and modules. These are reused across the website as editors add pages to the sitemap and add modules to those pages.
Empowered editors
With page management, editors can do much more than they would do on a pure headless CMS. They can use modules to build digital content without requiring an editor.
Focused Developers
One of the main issues developers using a headless CMS face is that they end up spending a lot of time editing content. With page management, they just need to make one API request, and you get all the content for that page.
The Elements of Page Management In Agility CMS
Most developers and architects start building their content using simple content definitions, and while that's a good way to get started, it doesn't scale well. That's why we offer users a built-in page management system. With Agility CMS, you can define three things that make development and editing simple. Page templates, module definitions, and digital channels and sitemaps. Let's take a look at these three elements.
Page Templates: Page management also includes page templates. We provide ability to create templates to narrow down the possibilities of what kind of content your website shows, giving the editors the tools to customize them. Each page template has content zones that give editors a location to drag and drop modules. Templates allow developers to determine a name and a set of modules where content editors can add content. Developers can also write code to render this template into an HTML document.
Modules: Page management empowers editors to create and manage content using reusable building blocks, also called modules. Using these building blocks, editors can manage their site's page tree, edit SEO, and determine content relationships and the functionalities of each page. Also, developers can choose which modules editors can add, where they go, and what they do. Modules are reusable sets of fields that can go from a header to more complex UI elements such as a sliding image carousel. In short, modules are the building blocks that enable complex websites.
Digital Channels and Sitemaps: A sitemap is a content structure that developers use to render the website. In Agility CMS, websites have one or more sitemaps defined, each in its own channel, enabling multi-site management and granular control over each digital property.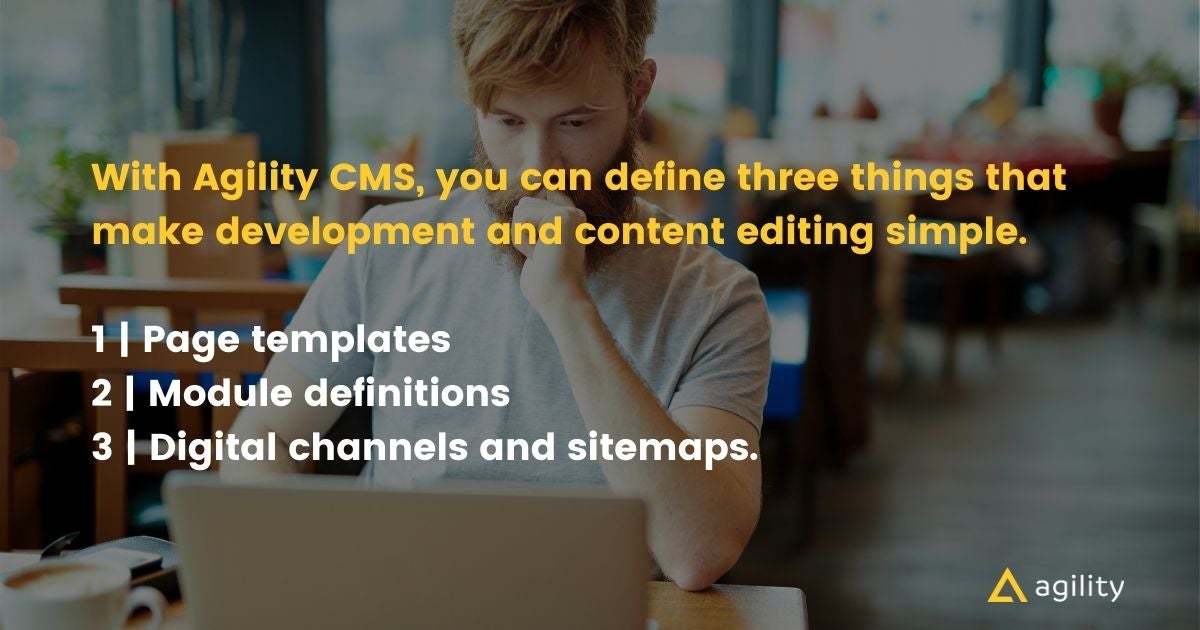 The Keys To A Successful Headless CMS Page Management Implementation
Make sure your content editors can manage all aspects of pages (name, SEO, and content)
Before implementing, teach your editors to manage URL redirections
Include your content editors in your discussions about content architecture
Empowering Content Editors and Developers.
The main thing about Agility CMS is that instead of coding and routing each page individually, developers now have to code only a few page templates and modules. These templates can be reused across the website, sharply reducing the amount of work that developers need to do from the beginning.
Now, with the help of page management, content editors can create and move pages around the sitemap in any way they see fit, adding modules to the websites and updating the properties of these modules as well.
If you're ready for more effective content management or you're looking to future-proof your company, start a conversation with our experts or contact us to request a demo.
Want to learn more about Agility CMS features? Keep Reading:
Why Agility CMS has Page Management as a Headless CMS
How to Design A Content-First Strategy using Agility CMS
How to Know Whether You Need a New Agility Instance or a Digital Channel
Take the next steps
We're ready when you are. Get started today, and choose the best learning path for you with Agility CMS.