CONTENT BEFORE DESIGN: Why Your Digital Transformation Needs to Go Content-First in 2020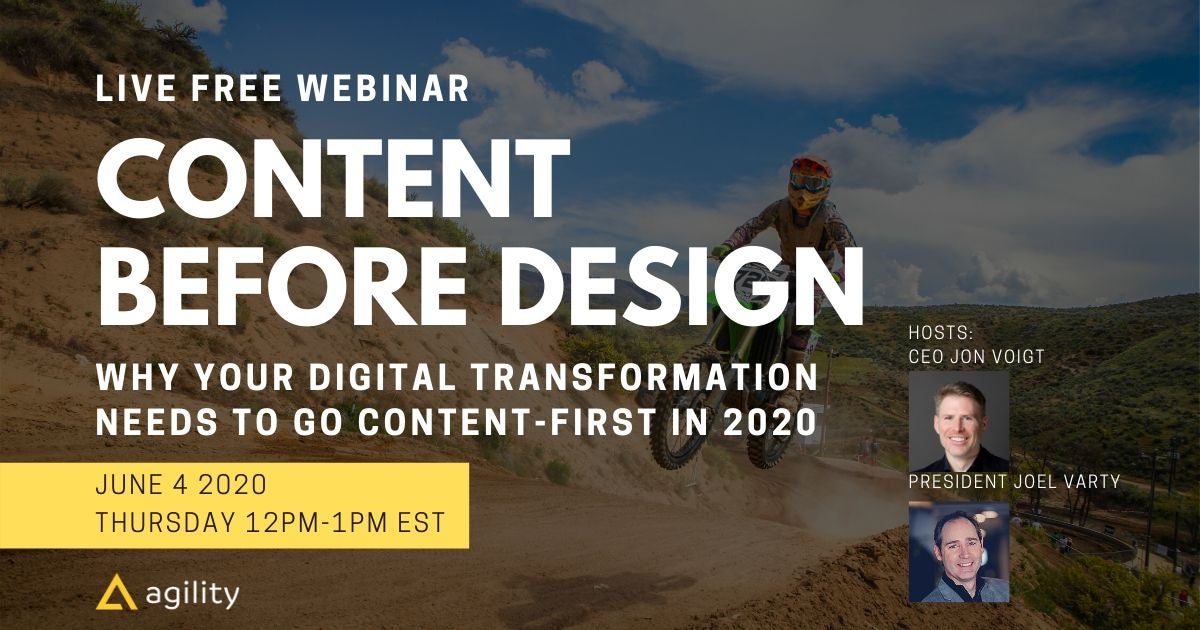 How many times did you change the design of your website in the last 10 years?


How easy was it to transfer all your content from your old (slow?) website to your new, shiny, fast one?


How long was it before you felt like the website became old and slow again? And that you needed a new omnichannel strategy with all kinds of design and technology updates?


How helpful was your CMS in this digital evolution? Was it your rock and foundation or an obstacle and a nuisance?


Are you ready for a Digital Transformation in 2020?
If these questions made you pause and think... let's dive in!
Technology changes fast.
The world needs useful, accessible content across all digital channels. And brands need tools to be able to supply that content efficiently and elegantly.
A content-first approach can help you to deliver the right content, in the right place, at the right time.
But Wait! What exactly do we mean when we talk about 'content-first'? We'll review that too!
Join our webinar on June 4th and learn why your Digital Transformation needs a Content First approach and how Headless CMS can help to implement this concept.
Let's get started future-proofing your digital strategy!
What you will learn:
Why it's paramount that Website or App front-ends can be rewritten easily without changing the content in your CMS.
How to get to the point where you never have to rebuild your website from scratch ever again.
Why great Content Architecture allows you to create the Digital Experiences that will stand the test of time.
We will explain the fundamental concepts of a Content First CMS implementation, such as Content Architecture, Content Definitions, Content Relationships, and Page Management.
Why we recommend JAMstack for your website in 2020
Who should attend:
Digital Leaders
Digital Marketing Strategists
Anyone responsible for Business Growth and Digital Transformation
Don't Miss It! Register Now
Back to Event Listing